EDIT MAIN
Burlington Public School is in Burlington, Oklahoma. Our school has approximately 133 students in grades Pre-K through Twelfth.
According to the October 3, 1996, edition of the Cherokee, Oklahoma, Messenger and Republican Newspaper, "The first consolidated school in Alfalfa County was organized in Burlington in April 1908. By 1913, it had 150 students and four teachers for an eight-month school. Cost per child was about 18 cents a day."
In 1909 the first school building was built and in 1923 a two story brick building was erected. In 1948 a bond was voted on for a new gymnasium and it was built that year. In 1963 a new modern school was built. In 1968 a new agriculture building was built on the south side of the school property. In 1970 the new kindergarten building was built. A new physical education gym was built in 1975. A new locker room facility and a new agriculture classroom building were built in 2010. In 2013, the community once again showed its support by passing a bond issue that funded the construction of a new Band/Safe Room, Ag Ed shop, and a teacherage, all of which are now complete and in use. In the summer of 2014, the school remodeled the old band room, which was in the kindergarten building, and turned it into a new Pre-K room.
The Burlington School campus includes the main building, the third and fourth grade modular building, an early childhood building, an agriculture education building, and a music building. Recently, a bus barn was added to the school grounds.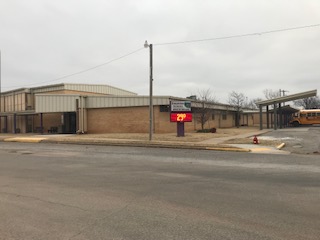 ---
How to sign up for Mr. Bart's School Wide Messages:
To receive messages via text, text @cbef5c to 620-450-4631. You can opt-out of messages at anytime by replying, 'unsubscribe@cbef5c'.
To receive messages via e-mail, send an e-mail to cbef5c@mail.remind101.com. To unsubscribe, replay with 'unsubscribe' in the subject line.